Universities in Monaco and their Tuition Fees
Do you want to Study in Monaco? Here in our Forum, we have put down relevant information about List of Universities in Monaco and their Tuition Fees which we strongly believe will help you in your choice.
Many people are confused about the status of Monaco. Like San Marino, which is an independent state within Italy, Monaco is also an independent city-state linked to France.
It is situated on the Mediterranean coast of France with a population of just under 40,000 people. Monaco is known more for its tourism, hospitality industries, and the Formula One racing event.
Study abroad students, therefore, might want to choose Monaco to get the first-hand experience of things related to those industries. As a matter of fact, the most famous university here is known for business courses related to all things sports, tourism and Management. The MBA is rated among the best in the world.
Reasons to study in Monaco
Apart from the great opportunity to learn first hand about how a first-class tourist industry is organized and run, students coming to Monaco would have the opportunity to learn about marine life studies.
The exceptional tertiary educational standard affords the student the chance to learn the history of a unique and beautiful country, endowed with many natural and cultural attractions.
Cost of living in Monaco
Monaco is sometimes called the 'Playground of the rich.' This is reflected in the very high cost of living. For instance rent for apartments is about 85% higher than in Paris the French capital.
And in comparison to London in the UK, the cost of rent is about 76% higher in Monaco. And don't forget London is one of the most expensive cities to live in. This puts Monaco in a different class as far as the cost of living is concerned.
Along with the cost of living is the very high standard of living. So for those who can afford to rent a room in Monaco, they would enjoy a quality of life fit for royalty. However, students can commute from outside of Monaco to school. For instance, the community of Beausoleil is just about 5 minutes drive from Monaco.
So unless a budgetary constraint is the least of your concern, living in Monaco is out of the question.
Tuition fees
In line with the high cost of living, the Universities in Monaco and their Tuition Fees are also quite high in comparison with other European countries.
Tuition fees in Monaco vary according to the school, program and whether or not the student is an international student. On average though, tuition starts at around $8000 per academic session.
The International University of Monaco charges on average about €10, 500 per session for undergraduates courses.
Visa
You would need a visa study in Monaco. However, there is a difference between visa requirements for living in Monaco and living in France
Monaco student visa
To get a student visa to live in Monaco, you need to go to the online visa application portal. Follow these steps next
English speakers should click on the British flag to get an English version
The select 'Visit France'
Next, select 'where do I apply'
Chose your country and the nearest French embassy to your location
Click 'Visa section'
Then select 'Visa for Monaco' and 'Long stay student'
Then download the application form and fill it
Documents required for Visa
Proof of enough funds to live in Monaco
Your police record for the last two years
Proof you have a place to stay in Monaco
Valid passport
Birth certificate and marriage certificate (if applicable)
Admission letter from the University.
Medical insurance
4 passport sized photographs
Submission of the completed form
After filling the form, put it together in a file with all the required documents and submit it to the French embassy close to you.
Residency Visa
All international students must also apply for a residency visa when they arrive in Monaco. The residency visa can be obtained from the Police Center in Monaco.
At the Police Center, ask for an official file and a date to meet with the visa inspector who would guide you through the process of obtaining your residency visa.
the following documents are needed to get a residency visit:
All the documents required for a student study visa (above)
Your Monaco visa
Student card
Passport photographs
Students living in France
If you wish to live in France while studying in Monaco, you must get a long-term visitor visa called VLS-TS. It is valid for one year. For more information about how to get a French student visa, read this excellent guide.
Universities/Tertiary institutions in Monaco
There is only one university located in Monaco, namely the International University of Monaco (IUM) and one college is known as Charles III College, Monaco
The International University of Monaco is the premier tertiary institution in Monaco. The University offers undergraduate and graduate programs in business and business administration.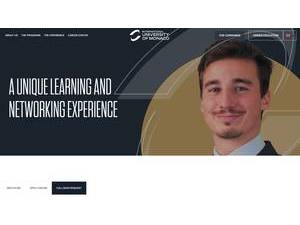 The International University of Monaco is a non-profit private higher education institution located in the urban setting of the medium-sized town of Monaco (population range of 10,000-49,999 inhabitants).
This institution has also branch campuses in the following location(s): Shanghai, Taiwan, Italy. Officially accredited and/or recognized by the Direction de l'Éducation Nationale, de la Jeunesse et des Sports, Monaco (Department of Education, Youth, and Sport, Monaco), International University of Monaco (IUM) is a very small (uniRank enrollment range: 250-499 students) coeducational higher education institution.
international university of Monaco tuition
International University of Monaco (IUM) offers courses and programs leading to officially recognized higher education degrees such as bachelor degrees, master degrees, doctorate degrees in several areas of study.
The university is famous around the world for its excellent MBA program and was formally known as the University of Southern Europe, Monaco.
IUM is a partner of INSEEC U., the leading French group in private higher education with International campuses in San Francisco, London, Shanghai, Monaco, Geneva, and Paris.
For more information click HERE
Editor's Recommendations